Living History

Recreating the Past
The living history aspect of the group is aimed at recreating various crafts and life activities . These activities vary considerably and can look at pretty much any aspect of life in the period we are looking at. Ranging from cooking (always a popular element to have at any event) through to story telling, dye making, herbs and medicine and many many other crafts. It is in the Living History side of the society we that we can learn about day to day life and how it affected people. The items you will see in our Living History displays are as authentic as can be and the manner in which the items are used reflect current archaeological theories and finds.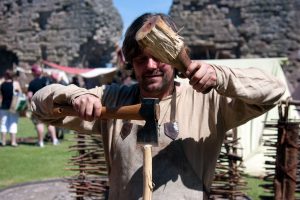 Living History also gives us a chance to show people outside of the group how people lived and ate in the dark ages. You will probably be surprised at how advanced people were and how good they were at the crafts and other activities they did.
As the site is developed we will add in areas for various crafts and activities.